Teach For Uganda's Alumni president Moses Ruharo is in the United States to start yet another interesting career journey. Moses will pursue a Masters in Science in Foreign Services at Georgetown University in Washington DC.
We are proud of him and very excited to see what this phase of life has in store for him.
Moses has penned a heartfelt message after settling in at his Washington DC apartment with hopes that it will inspire many to follow their dreams and ultimately change the course of their lives.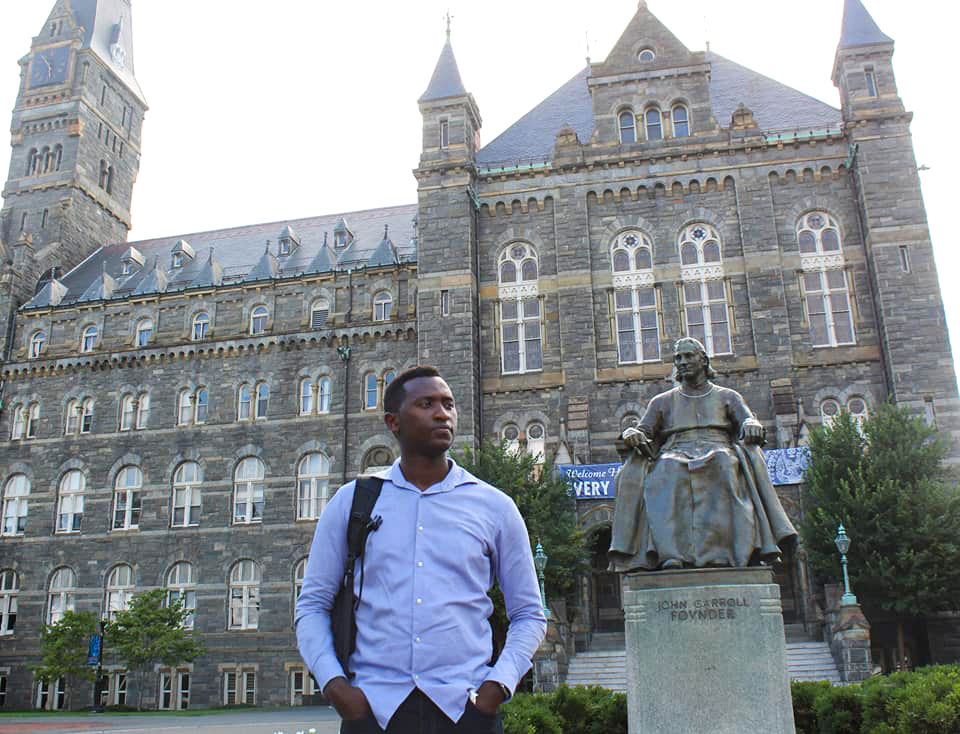 Hi all,
Now that I'm quite settled, I can jot down a few lines that are at heart.
On the evening of 8 December 2019, I was scheduled to meet Mr Kassaga and return the book I had borrowed to read (In the footsteps of Mr. Kurtz) and maybe chat over coffee as we talk about post Fellowship life. But little did I know that our conversation that evening would be life-changing!
Upon telling Mr Kassaga my plans of starting a venture capital firm with my Norwegian friends, of running a piggery project, and of Venturing into bull fattening, he paused and asked, "But Moses, why don't you apply to Georgetown University? It's a very prestigious institution - one of the best in the world..." and he went on to pull out his iPhone, " look, check its ranking here. One of the best in the world!" He added: "They emailed us asking if there are alumni at Teach For Uganda who we think qualify and are Interested in applying to the MSc Foreign Service program at Georgetown University. Moses, you qualify man. Apply!"
It was Louis Pasteur who once said, "Fortune favours the prepared mind." I think my 2 years with those lovely children and the rural community in Butuntumula UMEA prepared my mind for the ripe opportunity - I had a story to tell and share with the world! And so, I did - I applied to Georgetown University and wrote my story - A story of an orphaned boy who, upon graduating from Makerere University School of Economics, had a burning passion to go back and serve the rural community and touch a life that strikingly resembled his - that mirrored his very own journey at the start.
After months of waiting, the Director of Admissions at the School of Foreign Service (Best Policy and International Affairs school in the World) emailed me saying, " After a highly competitive selection process, I'm pleased to inform you that you have been admitted to the Edmund A. Walsh School of Foreign Service..." Then I'd gotten only the admission, but after the Admissions board reviewed my academic documents, and other details, they emailed me back saying they had given me 100% tuition scholarship - and the rest is history!
As I sit on my couch and sip some coffee from my apartment in Washington DC, I look back and ask, " what if I had not stayed the course in the 2 years I was serving as a Fellow in the rural communities of Luwero. What if I'd thrown in the towel before the end of my Fellowship. What if I'd chosen temporary convenience over compassion and service? Would I be here? No!"
Leadership as we know it is teetering on the edge of an existential crisis in Uganda, and it will take institutions like Teach For Uganda to identify, invest and nurture the next breed of Uganda's generational leaders.
As for me, I look forward to receiving the best holistic training from the brightest minds of our time, as I find my place on the global stage.
With Love,
Moses Ruharo
TFU Alum.